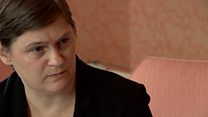 Video
Aberdeen City Council defends handling of baby ashes scandal
The chief executive of Aberdeen City Council has defended her handling of the baby ashes scandal involving Hazlehead crematorium.
When asked if she regretted how she dealt with the situation, Angela Scott told BBC Scotland's Kevin Keane she supported the authority's approach and would work to support the families affected.
Dame Elish Angiolini's report on crematoria in Scotland found there had been "unethical and abhorrent practices", including babies being cremated with unrelated adults, for years.
Solicitors representing families involved had complained about the way they were treated by the council which also came in for criticism in the former Lord Advocate's report.
Go to next video: Council chief: 'Baby ashes scandal can never happen again'