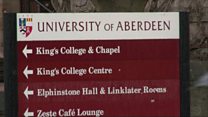 Video
Aberdeen University concern over future of £6m EU funding
The principal of Aberdeen University has said the UK vote for Brexit raises questions about the future of £6m of European funding.
Prof Sir Ian Diamond told BBC Scotland the university has tried to allay any fears that EU staff and students might have about the result but said the future of European funding was unclear.
He said: "We want to know that funding is secure and that we have a possibility to continue to apply for these funds, which are incredibly difficult to get and are based only on excellence and on the overall quality of one's proposal.
"We need to be able to know that over the next few years we can be developing applications in that way."
Prof Diamond declined to explain what the potential loss of EU funding could mean to the institution.