Media player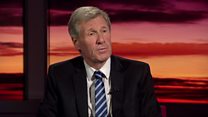 Media playback is unsupported on your device
Video
Kenny MacAskill explains why he released Lockerbie bomber
The only person ever convicted for the Lockerbie bombing was released from prison on compassionate grounds.
Suffering from prostate cancer, Abdelbaset al-Megrahi was freed from jail in Scotland in 2009 and returned to Tripoli where he died in 2012.
Kenny MacAskill, who was Scottish justice secretary at the time, has said that he refused a prisoner transfer application for the Libyan but that he met "the criteria for compassionate release and on that basis I authorised his release".
Pan AM flight 103 exploded over southern Scotland on 21 December 1988, killing 270 people.