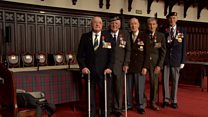 Video
Scottish WW2 veterans receive Légion d'Honneur
Five Scottish veterans of World War Two have been presented with France's highest military honour for their involvement in the Normandy landings.
French Ambassador Sylvie Bermann presented the Légion d'honneur at a ceremony in Aberdeen's Townhouse.
The National Order of the Legion of Honour, established by Napoleon Bonaparte in 1802, is the highest military and civil decoration in France.
While membership in the Légion is technically restricted to French nationals, foreign nationals who have served France may receive the honour.
BBC Scotland's Kevin Keane went to meet the veterans, some whom stormed the beach at Arromanches on D-Day.