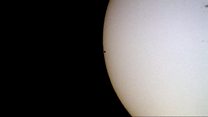 Video
Football camera captures Mercury's transit of the sun
Mercury has begun to cross the sun for the first time in 10 years.
It will not make another transit until 2019.
Viewable until about 19:45, the only land masses to miss out on the spectacle are Australasia, far eastern Asia and Antarctica.
Would-be stargazers are warned not to look directly at the sun as this will damage eyesight.
These pictures were filmed in Glasgow using a BBC camera and telephoto lenses that would normally be used to get close-ups of players during football matches.
Vic Kusin said he used dark filters to record the images of mercury, the small dot to the left, moving across the sun, and the group of fuzzier sun spots to the right and centre of the screen.