Media player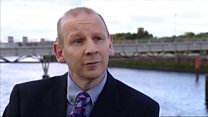 Media playback is unsupported on your device
Video
Doctor: 'The NHS needs more staff to function'
Radiologist Dr Grant Baxter has said that, despite medical advances, the NHS needs more staff.
"We can treat cancers now, that used to be treated surgically, simply by putting a little needle into the patient and either heating it up to a high temperature or cooling it down to a low temperature and killing that tissue," he said.
"So there's a lot of different things that we do, it's a lot more time consuming, and therefore we need a lot more radiologists to do this work."