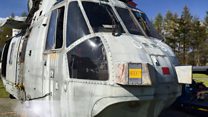 Video
Holiday home in a Sea King helicopter
If you want a break in an unusual place to get away from it all Scotland has plenty to offer, from castles to houseboats, and bothies to crofts.
But how about a couple of nights in a disused Sea King helicopter complete with shower, beds and a dining room with views in the former cockpit?
Well as Good Morning Scotland's David Allison explains it should be possible from this summer.
Farmer and caravan park owner Martyn Steedman from Thornhill near Stirling was clearly inspired when the royal navy search and rescue sea kings retired last year, inspired enough to buy a navy sea king and have it delivered to Stirlingshire