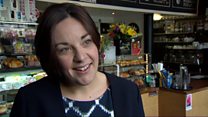 Video
Holyrood 2016: Scottish Labour's Kezia Dugdale says she's never been SNP backer
Kezia Dugdale says she has neither supported the SNP nor voted for them after claims that she had asked them for work experience in 2003.
The Scottish Labour leader told BBC Scotland that she had applied for a number of placements while at university but did not confirm whether the nationalists were among those she had approached.
Willie Rennie, leader of the Scottish Liberal Democrats, said the reports were largely trivia but the SNP had serious questions to answer over how the information became public.
SNP leader Nicola Sturgeon said no one "should be judged too harshly" on what they did in their youth.
Scottish Conservative leader Ruth Davidson questioned whether anyone could trust Labour with a leader who "flip-flops" on such important issues.