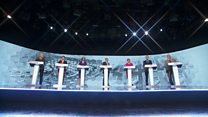 Video
Scottish election: Party leaders battle over taxes
The leaders of Scotland's main political parties have clashed over taxation and what to do with the new powers coming to the Scottish Parliament.
In the first televised leaders' debate in the run up to the Holyrood election in May.
SNP leader Nicola Sturgeon said: "I think there should be a 50 pence top rate of tax", confirming that she will not introduce it immediately but has not ruled it out in the longer term.
Scottish Labour's Kezia Dugdale said she would set new thresholds so "those earning less than £20,000 wouldn't pay any more tax", the rise would begin for those earning £21,000.
Ruth Davidson, of the Scottish Conservatives, cautioned against a hike in tax rates saying: "We don't think people in Scotland should have to pay more tax than the rest of the UK and we don't think it's good for Scotland either".
Making Scottish education a world leader once again was at the forefront of Willie Rennie's mind. The Scottish Liberal Democrat leader favours "a penny on income tax for education" to fund a £475m investment for nurseries, schools and colleges to fill the skills gap in the economy - but not for those earning under £19,000.
"We need to be ready to scrap the council tax" said Scottish Green co-convener Patrick Harvie who favours higher earners paying more tax and closing the wealth gap.
David Coburn, of the UK Independence Party, is not in favour of higher taxes saying "we need to have taxes which are fair to give us good social services, a good health service".
Go to next video: What would you say to Donald Trump?