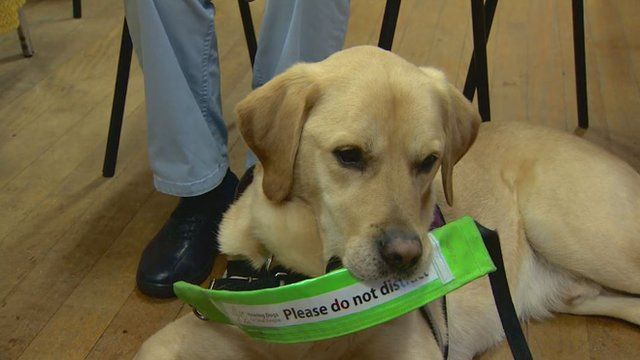 Video
Hearing dog helps deaf minister with Aberdeen flock
The Reverend Mary Whittaker is the first Minister for the Church of Scotland to be born deaf.
Rev Whittaker is also the first and only minister to have a hearing dog for the deaf in Scotland.
BBC Scotland's Ian Hamilton went to visit her in Aberdeen where she is the minister for those who have hearing difficulties.
TRANSCRIPT
REPORTER: Getting off the train in Aberdeen is the Reverend Mary Whittaker and her hearing dog for the deaf, Scott.
Mary and Scott are off to meet some deaf parishioners along with a colleague, another minister for the deaf at the Church of Scotland, the Rev Rosie Addis.
[Rosie addressing the dog: "Hello Scott, I've not seen you for ages".]
REPORTER: Rosie also helps out with interpreting for the deaf.
Mary is the first minister at the Church of Scotland to be born deaf. She's also the first and only one to have a hearing dog.
With the help of Rosie interpreting, Mary tells me how important her dog is.
REV MARY WHITTAKER: "He understands some signs, yes, so if he wants to get my attention he'll come and put his nose against me and I follow him to the phone or the door, whatever it is, if there's an alarm.
So, if the smoke alarm goes off I follow him but a fire alarm is different. He touches me and then he lies down on the floor and I know that it's a fire alarm because obviously I can't hear a fire alarm."
[Knock at the door. Scott gets Mary's attention, she gets up off the chair and follows him to the door.]
REPORTER: According to Mary, the deaf community can be a difficult one to reach out to for the church.
So having a minister born deaf like her is vitally important to make those connections and break down barriers.
REV MARY WHITTAKER: "Some people at church they have grief problems or they're stressed or lonely and Scott's a really good way of breaking down that emotional barrier and helping them. So, he's a great help.
Sometimes I don't know what to say to somebody but Scott's just there and they can pat him and that's all they need really."
REPORTER: Ian Hamilton for Reporting Scotland in Aberdeen.