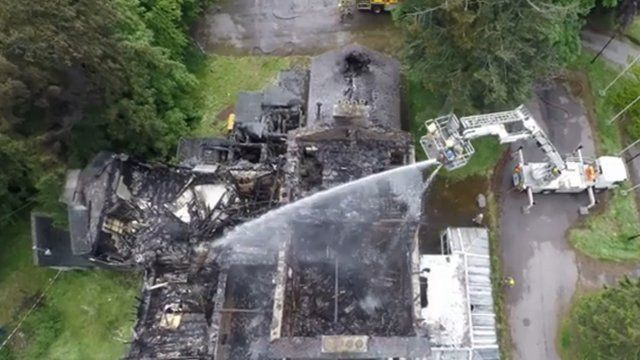 Video
Aerial footage of flame-engulfed Kintore hotel
Aerial footage shows firefighters tackling the smoking remains of a derelict building in Aberdeenshire.
Fire crews were called to the site of the former Torryburn Hotel, in Kintore, at about 23:30 on Monday.
There were two other fires in Aberdeen around the same time. About 20 people including a baby were treated for smoke injuries after a fire at Grampian Court in Torry, with another outside a supermarket just a short distance away on Wellington Road.
An earlier fire in a derelict part of the Royal Cornhill Hospital site in Aberdeen was also extinguished by firefighters.
Footage courtesy of Fennel Media
Go to next video: Police appeal after Aberdeen fire