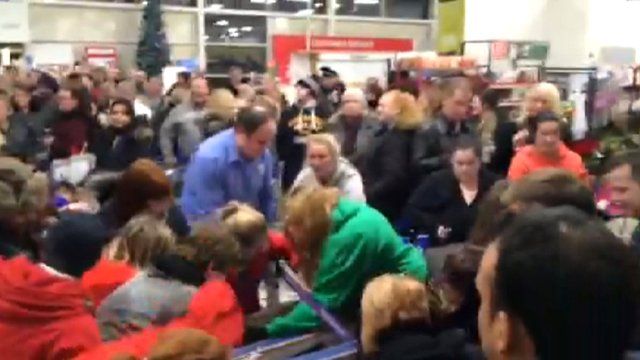 Video
Black Friday shoppers' Tesco scuffle in Glasgow
Police were called to a Tesco supermarket at the Silverburn shopping centre, in the Pollok area of Glasgow, around midnight amid reports of scuffles among bargain-hunters at the start of Black Friday.
Officers attended another incident at a Tesco store on the Kingsway, in Dundee, after hundreds of shoppers packed the car park and queued for cut price goods.
There were no arrests in either incident .
Retailers around the country are gearing up this morning for what's likely to be one of their busiest days of the year. With its roots in the United States, Black Friday is likely to see the start of the Christmas shopping frenzy with customers battling to get heir hands on heavily-discounted consumer goods.
Go to next video: Black Friday - in 60 seconds