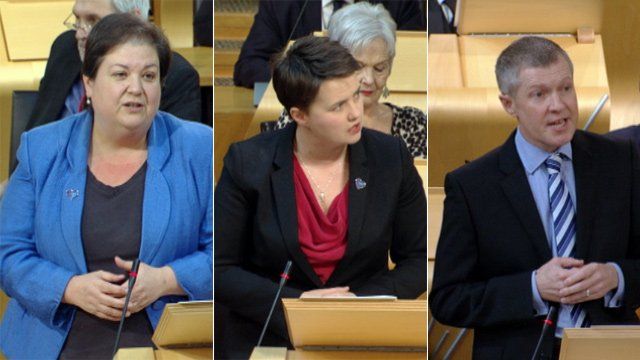 Video
Alex Salmond's sparring partners pay tribute to the outgoing FM
Opposition leaders in Holyrood have been paying tribute to outgoing First Minister Alex Salmond.
Scottish Labour's Jackie Baillie said: "No one of any party is able to deny the first minister's passion for Scotland or his love of his country."
Ruth Davidson, leader of the Scottish Conservatives, told MSPs: "The pressures of leadership are immense and to have served two decades at the helm and more than seven years first minister is a feat of enormous stamina, of willpower and of discipline. There are, I believe, very few people who are capable of it ."
Leader of Scottish Liberal Democrats Willie Rennie said: "I am sure I speak for many, that he should take his frustrations out on inanimate golf balls rather than on opposition politicians" and went on to "I wish him well for the future."
Go to next video: Salmond: 'More change' to come