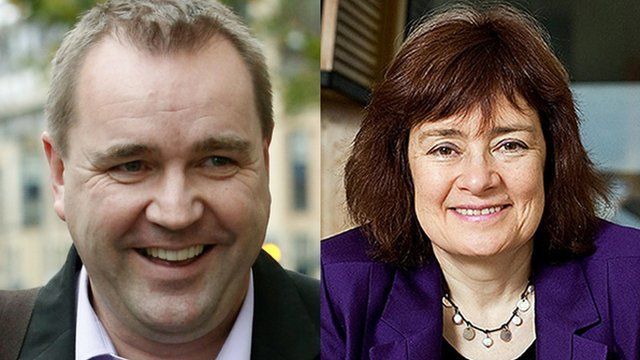 Video
Scottish Labour leadership: 'Political wake-up call'
Two Scottish Labour leadership candidates have admitted polls suggesting the party is on track to lose the vast majority of its Westminster seats to the SNP were a "political wake-up call".
An Ipsos/Mori poll for broadcaster STV suggested that 52% of Scots would vote for the SNP if there was a Westminster election tomorrow, and only 23% for Labour. It said this result would give the SNP 54 seats, with Labour's tally being reduced from 40 to only four.
The YouGov poll for The Times put the SNP on 43%, which it said would give them 47 seats, with Labour on 27%, which would slash their number of Scottish MPs to 10.
Speaking to the BBC's Bill Whiteford on the Good Morning Scotland programme, MSP Neil Findlay said: "The polls require a political response and that requires us to have policies that people recognise and people recognise as Labour and that we are addressing their issues."
"If we don't have that political response then we are going to be in trouble."
Fellow MSP and leadership contender Sarah Boyack said: "That's why we've got to focus on reconnecting with people, reconnecting with those Labour voters who voted with us in the past but voted 'Yes' in the referendum."
Scottish Labour is looking for a completely new leadership team after deputy leader Anas Sarwar followed leader Johann Lamont in announcing he was standing down.
A deputy leadership election will now be held at the same time as the leadership vote.
Go to next video: Miliband: 'We face big challenges'