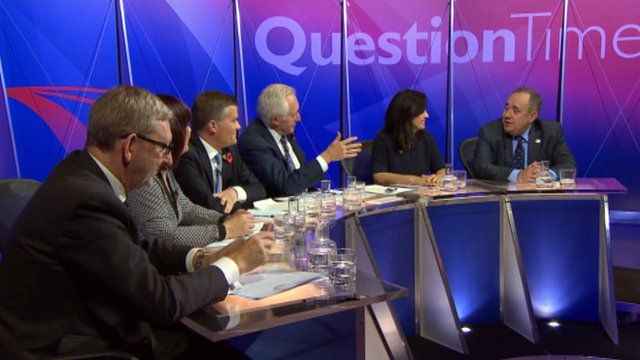 Video
Alex Salmond says he may return to Westminster as an MP
Alex Salmond says he has not ruled out a return to Westminster to serve as an MP once he steps down as first minister in the Scottish Parliament.
Mr Salmond made the comment during an appearance on BBC Question Time, hosted by David Dimbleby in Liverpool, on Thursday night.
When asked if he would return to Westminster to fight for the NHS as an MP, Mr Salmond said: "I haven't made-up my mind so you'll have to wait and see but I'll tell you what, when I do make up my mind, invite me back onto Question Time and I'll tell you why I did it."
The other panel members were Len McCluskey, leader of the Unite trade union; UKIP MEP Louise Bours; Conservative MP Mark Harper, minister for disabled people; Labour MP Caroline Flint, shadow energy secretary.
Question Time is available to watch on the BBC iPlayer.