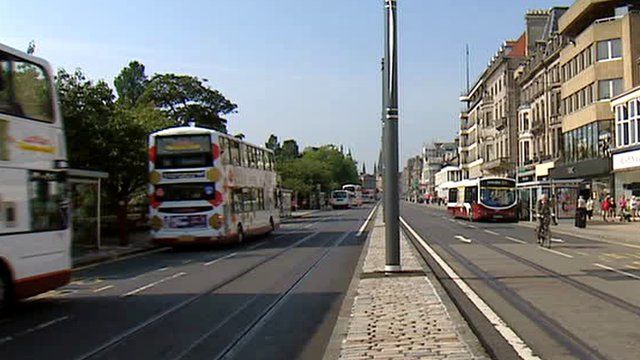 Video
Voice of Rab C Nesbit calls the stops to promote 'talking buses'
People with partial sight cannot always make out the number of a bus until it reaches the stop.
More concerning, is the number of people with Guide Dogs who get off at the wrong stop, ending up lost and in difficult situations, and consequently deciding not to use the bus.
A survey by Guide Dogs Association found that 65% of passengers in Scotland missed their stop.
In London, all buses have audio visual technology and a campaign is under way for all new buses across the UK to be fitted with this technology.
In Scotland, it is used on the bus number 10 in Edinburgh, some Stagecoach buses in Aberdeenshire, and some buses in Strathclyde.
And passengers of the number 84 from Kirkintilloch to Twechar will this week hear from a very familiar comedy character.
The voice of Rab C Nesbit is calling the stops in aid of Guide Dogs Week from 4-12 October.
Eric Stewart from Strathclyde Partnership for Transport (SPT) said: "I hope it's fun for people to hear Rab C Nesbit's accent play over the audio system. We've had positive feedback that next stop announcements help the blind and partially sighted as well as those unfamiliar with a route."
The campaign is organised by the Guide Dogs Association and has the support of local transport authorities.
Buses in Cardiff have the voices of singer Cerys Matthew, and Nessa from the sitcom Gavin and Stacey.
Guide Dogs Association chief executive Richard Leaman said: "People with sight loss rely on buses; without audio announcements, they can feel forced to stay at home.
"We're urging the government to make audio visual installation a priority on UK buses. We're working with SPT to make audio visual installation a reality in Glasgow.'
In September, the Guide Dogs Association also ran the Stand Out Bus Tour to raise awareness at the political party conferences and across Britain.
The charity is collecting signatures for its Talking Buses petition to Downing Street following recommendations from the Transport Select Committee at Westminster.