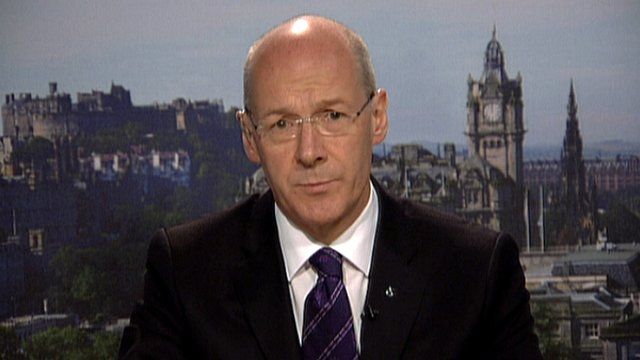 Video
Scottish referendum: Swinney accuses No leaders of 'backsliding'
First Minister Alex Salmond has accused the leaders of the three main parties at Westminster of reneging on promises of further devolved powers for the Scottish Parliament.
The tri-party pledge was made during the campaign in the referendum on Scottish independence.
Scotland's Finance Secretary John Swinney told BBC Sunday Politics Scotland's Gordon Brewer that the promise of more powers had persuaded some Yes voters to stay with the Union.
He said: "We now find ourselves looking at all sorts of comments that are being made by the Prime Minister, by various figures within the Labour and Conservative parties, that suggest there is you know more than a little backsliding going on on these commitments."
Downing Street has dismissed accusations that party leaders are reneging on a pledge to give Scotland more powers following Thursday's No vote.