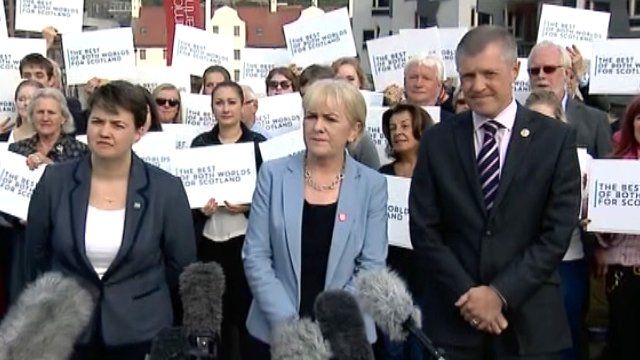 Video
Scottish independence: Leaders back more powers in event of No vote
The Scottish leaders of the three main pro-Union parties have announced their support for more powers for Scotland if there is a "No" vote in next week's referendum.
Scottish Labour leader Johann Lamont, Conservative leader Ruth Davidson and Liberal Democrat leader Willie Rennie made a statement in Edinburgh.
They endorsed the "delivery plan for change" set out by former prime minister Gordon Brown.
The announcement came as a new poll suggested both sides in the Scottish independence referendum campaign were almost tied.
Yes Scotland described the poll as "another breakthrough" while Better Together said it showed there was "no room for a protest vote".