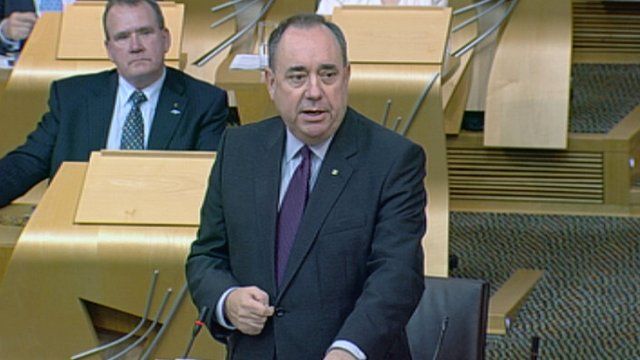 Video
Scottish independence: Salmond confident referendum will vote yes
MSPs have been debating Scottish independence a year to the day before the referendum.
People in Scotland will be asked to answer the question, "Should Scotland be an independent country?".
Opening the debate in the Scottish Parliament, First Minister Alex Salmond told MSPs that decisions about Scotland were best made in Scotland, and expressed his confidence that Scots would vote "Yes" to independence next year.
Scottish Labour leader Johann Lamont accused the first minister of "not living in the real world" and said next year's vote was a "once in a life time opportunity" to back the Union.
The referendum bill is expected to be passed by the end of the year.
The Scottish government will publish a white paper in November that will lay out plans for an independent Scotland which voters will be asked to judge next year.
Go to next video: Salmond: 'It is head and heart'