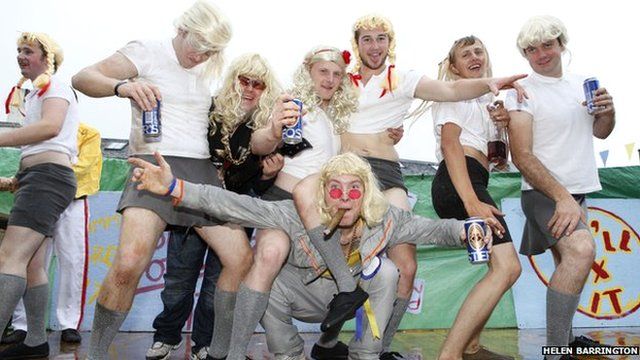 Video
Savile fancy dress float branded 'distasteful'
The organisers of Lauder's Common Riding celebrations have defended the decision to award third place in the event's fancy dress competition to a group who dressed as the paedophile Jimmy Savile alongside schoolgirls.
There has been fierce criticism but organisers have said they support free speech and pointed out that the judging committee was entirely independent.
Local MSP Christine Grahame has described it as "distasteful", saying: "These are family affairs, it was very tasteless to do this.
"Someone at some point should have considered this is not appropriate.
"I do not think it was malevolent, I think it has been foolish and misguided".
Peter Saunders, from NAPAC a charity which works with survivors of childhood sexual abuse, told the BBC's Good Morning Scotland programme: "They are a group of young lads so lets make a slight allowance for their ignorance.
"The organising committee, the people who awarded them a prize, I think they need to have a serious look at their own consciences. This is not a trivial matter."