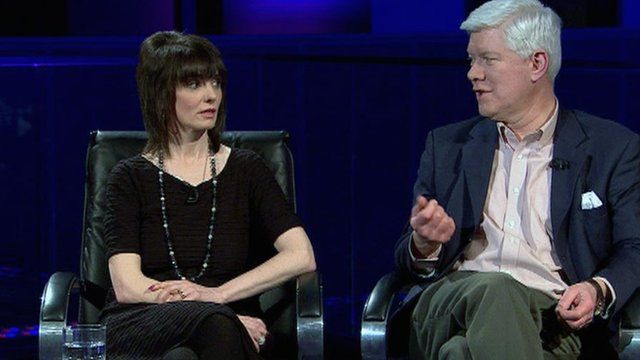 Video
When did the Catholic church know about the cardinal allegations?
A Scotland-based Vatican adviser and the journalist who broke the story about the sexual conduct of Cardinal Keith O'Brien have argued about when the Roman Catholic church first knew details of the story.
Prof John Haldane, who is a professor of philosophy at St Andrews University and papal adviser to the Vatican, told a special Newsnight Scotland debating panel that the church only learned of the allegations nine days ago.
Catherine Deveney wrote The Observer piece in which three serving priests and one former priest accused the cardinal, who has now stepped down from public office, of "inappropriate behaviour" towards them.
She told the debate: "It is not quite accurate to say the Scottish Catholic Church did not know what was going on because there was an intermediary within the Catholic Church who took the complaints to the Papal Nuncio."
Prof Haldane said he was aware of the intermediary who had brought the accusations straight to Rome as opposed to beginning a complaints procedure within the Scottish Catholic Church.
However, he insisted that the first the church in Scotland knew the details of the claims was the night prior to publication of The Observer story.
The Newsnight Scotland debate about the future of the Roman Catholic Church in Scotland was made up of a panel of experts including Prof John Haldane; journalist Catherine Deveney; the editor of the Scottish Catholic Observer Liz Leydon; Professor of Religious and Philosophical Education at Glasgow University James Conroy; the Rev Martin Johnstone from the Church of Scotland and Tom French from the Equality Network.
To watch the programme in full until 12 March go to the BBC iPlayer.