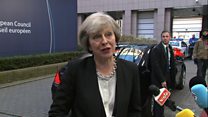 Video
Theresa May asked about '10-year Brexit deal' at EU summit
As she arrived in Brussels, UK Prime Minister Theresa May was asked by waiting reporters whether it would take 10 years to complete a Brexit deal - a timescale the UK's ambassador to the EU has said other EU leaders have suggested.
Mrs May did not directly answer the question. Instead, as leaders gathered for a one day summit, she focused on the issue of immigration, which is one of the key subjects on the agenda.
She also said she was pleased that the other 27 EU leaders were going to be discussing their aims for forthcoming Brexit negotiations, saying the UK side was already preparing for the talks which she hoped would lead to a smooth and orderly departure from the EU.