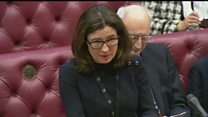 Video
Minister ambushed over blue passports
A row broke out in the Lords as Leaver and Remainer peers teamed up to surprise a Home Office minister by challenging her on reports that UK passports will be made by a French company.
Peers were being asked to approve a statutory instrument on passport fees - normally something which would pass without debate.
But Labour's Lord Foulkes of Cumnock used it to describe the news as "a great embarrassment", backed up by Conservative Lord Forsyth of Drumlean.
Home Office Minister Baroness Williams of Trafford told him it was not the right time to bring it up and peers tried to force a vote, but eventually backed down after a stern intervention from the chief whip.