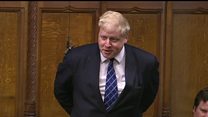 Video
EU deal: Cameron responds to Boris Johnson
Boris Johnson is among the big hitters exit campaigners are hoping will join their side in the UK's referendum on whether or not stay in the European Union.
The London mayor has said there is "a lot more to do" to get a good deal for the UK and he asked the PM during his Commons statement what the UK's EU deal would do to restore UK sovereignty and curb EU regulations.
Mr Cameron insisted he would get back powers over a string of areas. He told his Conservative colleague: "I am not saying this is perfect, I am not saying the European Union will be perfect after this deal - it certainly won't be - but will the British position be stronger and better? Yes it will."