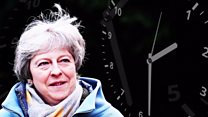 Video
Brexit: Has anything changed?
Did Theresa May's latest statement rule out a no-deal Brexit, and what might happen next?
The prime minister has said she will put her withdrawal agreement - including any changes she has agreed with the EU - to a meaningful vote by 12 March.
If that fails, MPs will be offered two separate votes, one on whether MPs support a no-deal Brexit and one on whether to request a short extension to the two-year Article 50 negotiation process to delay EU withdrawal beyond 29 March.
Any extension should not go beyond the end of June and "would almost certainly have to be a one-off", she added.
So far, MPs have refused to back Theresa May's plan for how we leave the EU.
So what's at stake now? Our political correspondent Jonathan Blake explains.
Go to next video: PM: Option of 'short extension' to Brexit