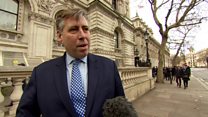 Video
Brexit: Sir Graham Brady 'would welcome' vote being deferred
Sir Graham Brady has told the BBC he "would welcome" next week's Brexit vote "being deferred" until there is "clarity" on the Northern Ireland backstop exit mechanism.
MPs are due to vote on the prime minister's Brexit deal on Tuesday.
The chair of the 1922 committee of backbench Conservative MPs told Newsnight's Nick Watt that the most important thing was to have an answer for how the UK might remove itself from a "backstop, Northern Ireland protocol situation".
"If that question can be answered in the course of the next few days then all well and good," he added.
"If it can't then I certainly would welcome the vote being deferred until such time as we can answer that question."
You can watch Newsnight on BBC 2 weekdays 22:30 or on iPlayer. Subscribe to the programme on YouTube or follow them on Twitter.