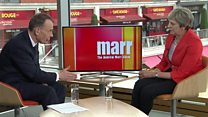 Video
Theresa May apologises for Windrush scandal but not for hostile environment policy
Prime Minster Theresa May has responded to calls for an apology over the outcome of the hostile environment policy, which contributed to the Windrush scandal.
She directly responded to the case of Windrush immigrant Sarah O'Connor, who had her British citizenship challenged and as a result fell into financial hardship.
"I apologise for the fact that some people who should not have been caught up in [the policy] were caught up in that, with, in some cases, as we've just seen, tragic results," she told the BBC's Andrew Marr.
Go to next video: The story of the Windrush generation