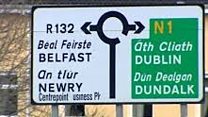 Video
United Ireland - border vote leading to reunification?
Two years into the Brexit process some Irish nationalists believe support for Northern Ireland joining the Republic is getting stronger.
For the Daily Politics, reporter Emma Vardy looks at whether a united Ireland is a real possibility, and what opposition it faces.
She spoke to Sinn Fein's Matt Carthy, unionist writer Sarah Creighton, the DUP's Sir Jeffrey Donaldson, researcher Paul Nolan, and Fine Gael's Neale Richmond.
More from the Daily and Sunday Politics: Watch programme highlights, or full programmes from the last 30 days via BBC iPlayer; 'like' us on Facebook page or 'follow' us on Twitter
Go to next video: Robinson warns of border poll chaos