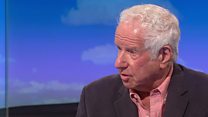 Video
Tom Mangold on his Jeremy Thorpe Panorama documentary
A dog played a central role in the botched attempt to try and kill Norman Scott on Exmoor, and another one almost destroyed a rare copy of an unseen 1979 programme that was updated and finally made it to air on Sunday evening.
Tom Mangold defied BBC orders to wipe his Jeremy Thorpe documentary, that could not be transmitted after the former Liberal leader was acquitted, but the Panorama reporter revealed how his dog tried to eat his copy of it.
He told Daily Politics presenter Jo Coburn: "She was clearly part of the conspiracy!"
Go to next video: The MP tried for conspiracy to murder