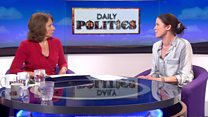 Video
Cuts to funding for teachers for deaf children in England
Labour MP Caroline Flint and Conservative MP Ed Vaizey are asked about funding for teachers who help deaf children.
Jo Campion, deputy director of the National Deaf Children's Society, said the services were at "breaking point" as she presented its research which showed a third of councils in England plan to cut their budgets for the service.
No minister from the Department for Education was available for this Daily Politics debate.
Watch Bristol mother on cutting teachers for deaf children
More from the Daily and Sunday Politics: Watch full programmes from the last 30 days via BBC iPlayer; 'like' us on Facebook page or 'follow' us on Twitter