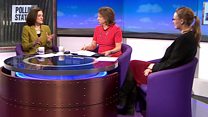 Video
Villiers and Smith on new photo ID requirements
A new requirement for some English voters in pilot areas to provide photo identification should not affect voting figures, says Theresa Villiers, who said that Northern Ireland voters are already subject to these checks.
But Cat Smith MP, Labour's shadow minister for voter engagement, said fraud was a "small problem" but 7.5% of voters will not have a passport or driving licence to prove their ID.
They spoke to Daily Politics presenter Jo Coburn ahead of the rules in pilot schemes in some areas in May.
FILM: Some voters will have to provide identification
Watch more clips from the Daily Politics and see programme twitter account
Go to next video: Some voters will have to provide identification