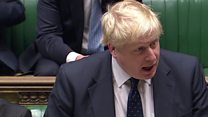 Video
Boris Johnson statement after Nazanin Zaghari-Ratcliffe comments
Boris Johnson is to visit Iran later this year, he has told the House of Commons, after apologising to Nazanin Zaghari-Ratcliffe over his previous comments which "could and should have been clearer".
The foreign secretary said all MPs had "deep concern" about the case, and would want to join him in "urging the Iranian authorities to release her on humanitarian grounds".
He said "the government has no doubt" that Mrs Zaghari-Ratcliffe was on holiday when arrested in April 2016, and that the humanitarian case to release her was "so overwhelming".
Go to next video: Johnson 'should be considering his position'