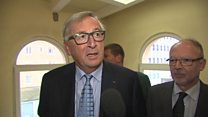 Video
Juncker on German press reports about Theresa May meal
The President of the European Commission has denied leaking an account of his dinner with the UK prime minister.
Asked if he had spoken to the German press, Jean-Claude Juncker said: "Nothing is true in all of this. I had an excellent working dinner with Theresa May. She was in good shape, she was not tired, she was fighting as is her duty so everything for me was ok."
Asked whether she had "pleaded" with him over getting Brexit progress, he added: "No, that's not the style of British prime ministers."
Mr Juncker spoke to the BBC's Adam Fleming before addressing students at a university In Strasbourg.
Go to next video: UK 'heading for no-deal Brexit'