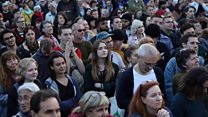 Video
Reality Check: Is membership crucial to political success?
"Labour is the largest political party in western Europe," declared Jeremy Corbyn at the Labour party conference this week.
Since he became party leader two years ago Labour's membership has risen to at least 550,000. With mass membership comes money - and the electoral commission reports that Labour last year got 10 times more cash through membership fees than the Conservatives.
But who are the people who join parties and how important are they for political success?
BBC Reality Check's Tom Edgington has been looking at what's been happening inside both the Labour and Conservative parties.
Go to next video: Corbyn's full speech to conference