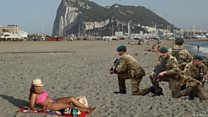 Video
The time Britain invaded Spain... by mistake
In 2002 an attempt to show off their prowess at dawn assaults went badly wrong for a unit of heavily armed British Royal Marines when they accidentally invaded the wrong country.
The platoon stormed from a landing craft on to the San Felipe beach in the Spanish town of La Linea and instead of being fired on with blank rounds by fellow British soldiers pretending to be the enemy, the marines found local fishermen.
Lord West is former First Sea Lord and was the Commander in Chief at the time and explains what happened to the Today programme.
(This is a Photoshopped montage of La Linea beach and Royal Marines)
Go to next video: Falklands 'resolve' urged over Gibraltar