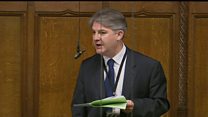 Video
Philip Davies MP: My 16,000 Twitter followers hate me
The Conservative MP for Shipley, West Yorkshire, says going on Twitter was "probably one of the worst things I ever did" as all his followers hate him.
Philip Davies, a critic of political correctness and "zealous" feminism, who campaigns for "men's rights," told fellow MPs those who were not on Facebook or Twitter were "the sensible ones".
Of his Twitter critics, he said: "It's all very interesting, what they have to say, I'm sure, but it seems to me rather pointless to be perfectly honest."
His comments were an aside during a debate about whether journalists should have access to local authority accounting records.
Go to next video: MP objects to domestic violence bill