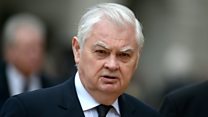 Video
Ex-chancellor worried US seen to provoke demise of euro
President Trump's trade adviser has criticised Germany, saying that it continues to exploit other countries in the EU as well as the US with an 'implicit Deutsche Mark' that is grossly undervalued.
The president of the European Council, Donald Tusk, hit back by listing the new administration of Donald Trump among external threats faced by the European Union.
Lord Lamont is a former Conservative Chancellor and backed the Brexit campaign in last year's referendum.
He told The World at One that an outsider, like the United States, has "to be very careful in saying anything that might be thought to provoke or promote the disintegration of the euro".
Go to next video: Lamont: Eurozone is in denial