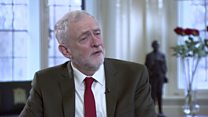 Video
Corbyn 'won't intervene' in Hilary Benn deselection row
Labour leader Jeremy Corbyn has told the BBC he will not step in to protect Hilary Benn, following reports the former cabinet minister is facing deselection.
Mr Benn, who was sacked as shadow foreign secretary last summer amid a row over Mr Corbyn's leadership, is MP for Leeds Central - where there have been reports of a "takeover" of the local constituency party by Mr Corbyn's supporters .
Mr Corbyn told BBC Look North's political editor Len Tingle: "I do not, as a leader, dictate or interfere in what local parties do. I want justice, I want democracy, I want fairness, I want representation."
He said all parties faced a selection process once new constituency boundaries had been decided, adding: "We're getting a bit ahead of the curve here."