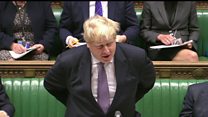 Video
Boris Johnson: Donald Trump's team want quick free trade deal
Foreign Secretary Boris Johnson, who has just returned from Washington, has told MPs there is a "huge fund of goodwill for the UK on Capitol Hill".
Mr Johnson, who had talks with some of president-elect Donald Trump's top aides and leading Republicans, said there was, "a very large measure of understanding that now is the time to do a free trade deal" and said "they want to do it, they want to do it fast", adding that "that understanding was most vivid and most urgent on the part of the incoming administration".
He said it was clear that there was "a wide measure of agreement" between the UK and the US "over the challenges that we face". He said British officials at all levels were "engaging with the incoming team to make sure we work in lockstep to build on those areas of agreement".