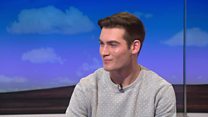 Video
Tom Harwood elected as National Union of Students delegate
A candidate from Durham University was elected as a National Union of Students delegate after an unusual video pitch.
Tom Harwood's bid had references to foliage and ISIS, but also a pledge to vote against NUS policies that discredit students.
He spoke to Daily Politics presenter Jo Coburn, Labour MP David Lammy and Conservative MP Suella Fernandes about his successful election, as he aimed to make the NUS "ever-so-slightly less terrible".
More: Follow @daily_politics on Twitter and like us on Facebook and watch a recent clip and watch full programmes on iPlayer
Go to next video: Anti-Semitic claims over NUS president's views