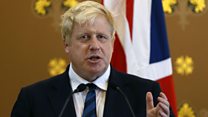 Video
Saudi comments: 'I wouldn't put it that way'
Former Foreign Office minister Alistair Burt says he would not have made the same comments as Boris Johnson in public about Saudi Arabia.
The foreign secretary's statement that Saudi Arabia has been engaging in "proxy wars" led Downing Street to distance the government from his position, describing them as "his personal views".
However Alistair Burt, who was minister for the Middle East until October 2013, says that it is common for that kind of opinion to be expressed privately between allies.
"Making sure our relationships are strong does not preclude being very direct with people when we need to be," he told The World At One.