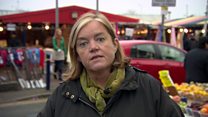 Video
Louise Casey's review into opportunity and integration
Louise Casey has been at the centre of government attempts to tackle tough social issues, including inequality, worklessness and homelessness for more than a decade.
On the day her independent review into opportunity and integration was published, Dame Louise Casey presents a personal film from Manchester for the Daily Politics about discrimination, sexism and inequality.
She said: "We are much more diverse than we used to be and significantly less segregated. But the report I am releasing today shows those in Muslim communities are actually somewhat of an exception to that."
More: Follow @daily_politics on Twitter and like us on Facebook and watch a recent clip and watch full programmes on iPlayer