Media player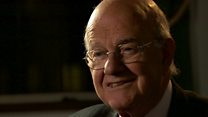 Media playback is unsupported on your device
Video
Brexit: Former top judge warns over Article 50 appeal
The justice system could be undermined if a ruling that only Parliament can trigger Brexit is overturned, a former lord chief justice has said.
Lord Judge said it could be seen as a victory for pro-Brexit demonstrators if the Supreme Court reverses last week's controversial High Court ruling.
He told BBC Newsnight: "Let's say for the sake of argument the Supreme Court decides the High Court was wrong, it will undoubtedly be conveyed as a victory for the demonstrators.
"It won't be but that's what will be conveyed. And if that is conveyed, you've undermined the administration of justice."