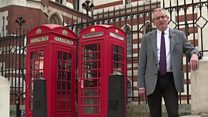 Video
Leveson: Hacked Off's Brian Cathcart and Jacob Rees-Mogg
The Leveson Inquiry into newspaper ethics dominated the headlines for months, but that was only part one.
In a personal film for the Daily Politics soapbox series, a Hacked Off co-founder calls for the second part of the Leveson Inquiry "to start cleaning things up now".
And Brian Cathcart said: "We need to know that these newspapers are not above the law and they need to know it too, because they're not sorry and they have not changed."
He then debated with Conservative MP Jacob Rees-Mogg, who said: "A complete waste of time and money, I did not think much of Leveson One and I think Leveson Two will be even worse."
More: Follow @daily_politics on Twitter and like us on Facebook and watch a recent clip and watch full programmes on iPlayer
Go to next video: 'We don't see any front page apologies'