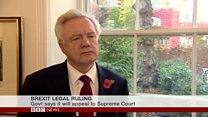 Video
Brexit: David Davis says British people are sovereign
Secretary of State for Exiting the EU, David Davis, says he "presumes" from the judgement on the Brexit court case that the judges believe an Act of Parliament is needed to give the go-ahead for triggering the Article 50 process for leaving the EU.
But he told the BBC the UK government was appealing against the decision and wanted to go ahead with delivering the best possible Brexit, which was what the British people voted for in the EU referendum in June.
He said that he believed Parliament was sovereign and MPs had voted by six to one to give the British people the final say on whether or not to leave the EU in the referendum. The people, who were also sovereign, then delivered the biggest ever electoral mandate, to leave the EU.
Go to next video: 'This result is about all our futures'