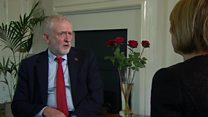 Video
Labour leader Jeremy Corbyn 'astonished' by lack of Orgreave inquiry
Labour leader Jeremy Corbyn said he was "astonished, absolutely astonished" by Home Secretary Amber Rudd's decision not to hold an inquiry into the clash between police and miners at Orgreave in 1984.
In an interview with the BBC's political editor Laura Kuenssberg, Mr Corbyn said that without an inquiry a "cloud remains" over those present that day, both miners and police officers, adding that South Yorkshire Police "need to know that there isn't a cloud forever over their force".
He said a Labour government would guarantee an inquiry into the incident.
Mr Corbyn added that this wouldn't be the end of the matter: "The determination of people to get justice never goes away and the government should remember that."
Go to next video: Burnham: Orgreave 'establishment stitch-up'