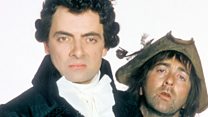 Video
PMQs: Corbyn and May talk Brexit and Blackadder's Baldrick
The Blackadder character Baldrick, played by Labour-supporting actor Tony Robinson, is name-checked and debated by Jeremy Corbyn and Theresa May at PMQs.
The Labour leader went to on to ask the prime minister when she would "abandon this shambolic Tory Brexit and develop a plan that delivers for the whole country".
Mrs May responded she would "deliver on the vote of the British people" with an end to free movement.
The exchanges were interrupted by the Speaker warning Conservative MP James Cleverly about fears for his health.
Watch the Daily Politics panel review PMQs
More: Follow @daily_politics on Twitter and like us on Facebook and watch a recent clip and watch full programmes on iPlayer
Go to next video: 'She'll tell us one day what it actually means'