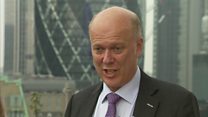 Video
Grayling: Heathrow expansion 'right call for the country'
Transport Secretary Chris Grayling says building a new runway at London Heathrow airport is "the right call for the country".
In an interview with BBC political editor Laura Kuenssberg, Mr Grayling said the government had reached a "rational and sensible decision".
He said that in "one or two areas" the government's estimate of the possible benefits had been different to that of the Airports Commission, and in these cases "the more conservative approach" had been chosen.
Asked whether he could guarantee the third runway would be built, Mr Grayling said: "What I can guarantee is this government is determined to see this through."