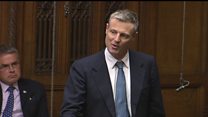 Video
Zac Goldsmith: Heathrow plans 'wrong and doomed'
Conservative MP Zac Goldsmith says the decision to back a third runway at Heathrow is "wrong" and "doomed to be a millstone around the government's neck".
Mr Goldsmith pledged before first being elected as MP for Richmond Park in 2010 that he would resign and force a by-election if his party ever backed Heathrow expansion.
The MP, whose constituency includes Heathrow flight paths, spoke against the proposal in a Commons statement from Transport Secretary Chris Grayling.
Mr Grayling replied that he respected Mr Goldsmith's position but added that everyone in politics had to do what they believed was right, and in this case he said he believed Heathrow expansion was right for the country.