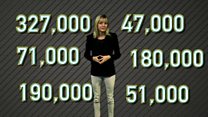 Video
UK government's bid to cut net migration levels
Home Secretary Amber Rudd is due to announce new restrictions on people coming to the UK from outside the EU, amid reports she is keen to reduce the level of immigration ahead of Brexit.
The government is still committed to bringing net migration down to the tens of thousands.
But the level of non-EU migration is still well above that level. Daily Politics reporter Ellie Price looks at the statistics, and hears from Migration Observatory's Madeleine Sumption.
More: Follow @daily_politics on Twitter and like us on Facebook and watch a recent clip and watch full programmes on iPlayer
Go to next video: Absolute end to free movement of people?